Terrence Vaughan Mann (born July 1, 1951) is an American actor, theatre director, and singer. He is chiefly known for his prominent appearances on the Broadway stage for the past three decades, including leading roles in the original Broadway casts of Barnum, Cats, Les Miserables, and Beauty and the Beast. He is a distinguished professor in musical theater at Western Carolina University in Cullowhee, North Carolina.[1] In cinema he is best known for portraying the bounty hunter Ug in the Critters film series.
Mann played the Bounty Hunter Ug in the Critters movies, but has worked mainly on the stage and in musicals.
Mann made his Broadway debut in 1980 in Barnum at the St. James Theatre, in the supporting role of Chester Lyman.[2] He made his true break-through performance in the original Broadway cast of Andrew Lloyd Webber's Cats in 1982, in which he met and starred alongside his future wife, Charlotte d'Amboise. He created the memorable lead role of the "playful" cat Rum Tum Tugger.[3] In 1985, Mann played assistant choreographer Larry in Richard Attenborough's film version of A Chorus Line.[4]
In 1987, he played the role of Inspector Javert in the original Broadway cast of Les Misérables. His portrayal of Javert earned him his first Tony Award nomination for Best Actor in a Leading Role.
References
Edit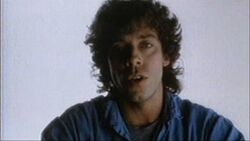 Resources
Edit