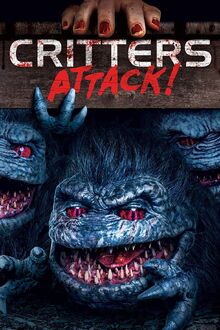 Critters Attack! is a 2019 horror comedy television film, about killer aliens called the "critters". It is the fifth entry in the Critters film franchise.
Tashiana Washington as Drea
Dee Wallace as Aunt Dee
Jaeden Noel as Phillip
Jack Fulton as Jake
Ava Preston as Trissy
Leon Clingman as Ranger Bob
Vash Singh as Kevin Loong
Steve Blum as Critter voices
While babysitting two teenagers, college student Drea discovers that the alien Krites have landed in the nearby forest. They soon receive help from the mysterious Aunt Dee, who might have a history with the hungry intergalactic beasts.
Production
Edit
On October 22, 2018, it was announced that SyFy was in talks to acquire the broadcasting rights to the Critters franchise in order to produce new sequels. The production began filming secretly in February 2019 in South Africa. The first film was officially announced on April 25, 2019 with the trailer appearing the same day.
Community content is available under
CC-BY-SA
unless otherwise noted.