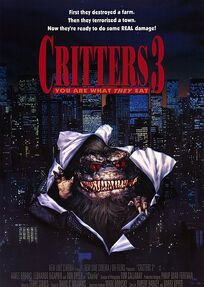 Critters 3 is a sci-fi comedy horror film directed by Kristine Peterson. It is the third installment of the Critters film series. Unlike the first two movies, it does not take place in the town of Grover's Bend. Instead, the Critters head to LA.
An urban family stops at a rest area while on vacation, despite warnings by Charlie, a veteran of the creatures' earlier attacks. Once widower Clifford (Calvin) and his kids Annie (Brooks) and Johnny return home to their apartment building, the critters, having laid eggs hitched a ride, begin to reproduce. Despite only two eggs (the third having been crushed by Clifford while fixing the truck) the tenement becomes overrun with diminutive, hungry killers. The first to go is cruel superintendent Frank. The unscrupulous landlord, whose son finds romance with Annie, is the only other death in the film, a marked lowering of the usual death count for the series. With the appearance of the resourceful Charlie and the heroics of Clifford, the critters' days are soon numbered.
Critters 3 was shot back-to-back with its sequel, Critters 4.
Leonardo DiCaprio's debut film, he plays the stepson of the evil landlord.
Actor Cary Elwes mentioned on the commentary for the uncut edition DVD of Saw that he passed on the role of Josh.
Resources
Edit
Community content is available under
CC-BY-SA
unless otherwise noted.